Tom Wheatley
"Whatever ideas I'm working through in music, I'm simultaneously exploring them in my visual work."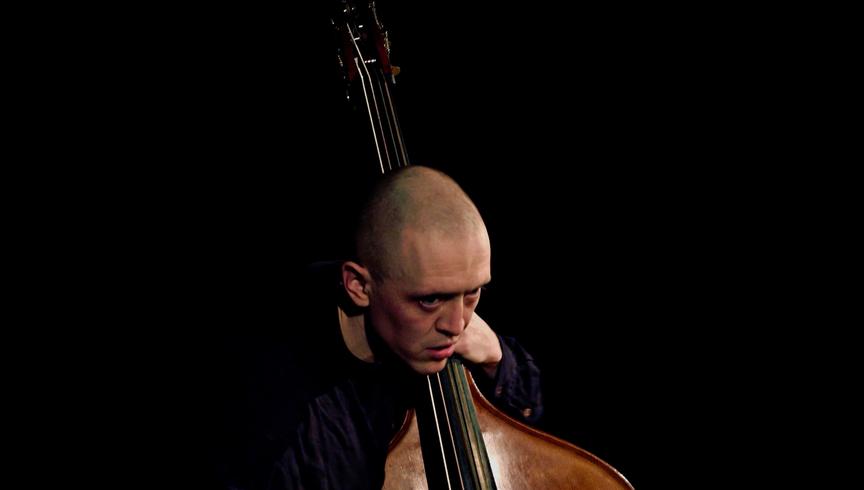 Tom Wheatley is a London-based artist and musician whose work is truly interdisciplinary. In a differentiated and innovative way, he combines, overlaps, and mixes concepts from two realms - sound and vision -, merging them into a singular body of work. His approach to music goes far beyond traditional acoustic modes of playing and improvising, and his ideas about composition and production are unconventional and innovative. His visual art is not less heterodox, often resulting in abstract drawings and paintings that are cyclically inspired by his musical outputs. Paradoxically, and despite part of Wheatley's work being improvisation-based, it is not spontaneously created per se, as his modus operandi heavily relies on interesting and intriguing concepts that are explored through unusual methods. His current projects include CAST-ON with Ilana Blumberg; various lineups & outputs with Daniel Blumberg; ТЕПЛОТА with Grundik Kasyansky; and an ongoing solo practice, documented on the albums Double Bass & Round Trip, the Machine Bass recording series, and on video here.
In an enlightening interview done by e-mail, we have talked about ТЕПЛОТА and other projects, the false dialectics between composition and improvisation, creative processes, the inextricability of the various elements of his artistic outlook, and how concepts of thermodynamics and statistical mechanics such as entropy, closed cycles, time-symmetry, and microscopy reversibility have been inspiring ТЕПЛОТА's fresh ЭС series. Irreversible, however, is the impact that Wheatley's art has on those who come across it since its left-field, radical, experimental, and futuristic approach leaves no one indifferent. Welcome to the "cryptically cyborgian" world of Tom Wheatley.
---
ТЕПЛОТА, your duo with Grundik Kasyansky, made its debut in 2020 with HEAT/WORK, a record released by TakuRoku. What were the driving forces behind this collaboration? Had you ever worked together in the past?
We met at Eddie Prévost's workshop in late 2013. We were both regular attendees for a long time, and we've worked together in several projects with other people over the years. Between us, in conversation and in music, we kept coming back to this idea of an improvised dance music, with blurred lines between the synthetic and the human, that would combine the irregular cyclical learning of improvisation with the regular cycles of techno. We only caught glimpses of it in the larger groups, but chasing this music was what started ТЕПЛОТА. 
ТЕПЛОТА
How easy is it to define the role of each of you in the making of these records? Are your musical interactions spontaneous or do they sometimes follow a predefined composition?
I think, at least in what we do, spontaneous vs. composed is a false dichotomy. Moment to moment our work is entirely spontaneous, we improvise, but ТЕПЛОТА itself is a composition that we are constantly refining the parameters of. This is what makes any 'improvised' music particular; its complex code of rules, most of which can't be put into words. So whilst we have our two discreet setups when we play, I make the sounds I make, Grundik makes his, what we do as ТЕПЛОТА is much more to do with the constant conversation we have, inside and outside of playing. We're quite direct with each other, from the conceptual to the practical, and this is really what shapes the music. So in answer to the first half of the question, the further into this music we get, the less sense individual authorship between us makes.
https://soundcloud.com/cafeoto/tr097-teplota-heatwork-sampler
One of the peculiarities of HEAT/WORK is the way you manage to merge abstract landscapes and anomalous sound topologies with an underlying, more familiar techno-like beat, characteristics that end up making the listening experience deeply immersive. The recording of this album involved several phases, all resorting to different techniques and ideas. Would you like to describe in a little more detail how this process went?
HEAT/WORK began with the Marantz portable tape recorder that my grandfather (who also played double bass) left me when he passed. This is the same machine I make the 'Machine Bass' series with. We had been regularly playing in Cafe OTO Project Space, and to one session I brought the Marantz, one microphone, and a 60 minute metal tape. This was unplanned, I did not tell Grundik that I had it until we started setting up and we had no plan, but the recordings we made that day became the basis for HEAT/WORK. They had a very particular quality to them, but they were very lo-fi, and mono. I release the Machine Bass and the Yoke series with John Edwards on cassette and, in good and bad ways, I find it a limiting format. It didn't make sense for this record to be, or sound like, a tape; they often have this flat surface to them, we wanted something more embracing, that would wrap around you. While retaining that mysterious, squelchy core, we wanted to add some closer, brighter element, and to balance everything in a wide landscape. 
So, we chopped up the material, rearranged the sequence of time, opened up the stereo field, Grundik made dubs out of some parts, I did some data manipulations on other parts, we overdubbed in various ways. We were essentially creating new music from what we recorded, folding it back in, stripping out what we didn't need, and repeating the process. It was rigorous and transformative, but at the heart of it I still hear us playing, unscripted in OTO Project Space. And it wouldn't have come together as it did without the mixing and mastering by Gosha Hniu, he's done on all our releases to date. His work is brilliant, and integral to the sound of it.
How we play now is a result of this process. That record, like all records, is fiction. Having built this fictional music together that excited us both so much, we were compelled to find a way to do it in real life. It led us to a total reimagining of our setups and the way we play to find a way to make this spacial, storeyed music. That's the aim now, the fictional made actual.
[bandcamp width=100% height=120 album=1204956347 size=large bgcol=ffffff linkcol=0687f5 tracklist=false artwork=small]
Since the beginning of the year, and on the first of each month, you have been releasing a new issue of a series entitled ЭС, focused on the 7-inch format, in which you have been exploring concepts of thermodynamics. This approach to physics is an idea that re-emerges here as a conceptual basis for these works, something that had already been referenced in the title of HEAT/WORK. Why this reiterated interest in the relationship between sound ideas and physics concepts? What is the overall idea of the ЭС series?
As a subject, we came to it via a mistranslation, but it was clear that the thermodynamic processes of converting work to heat are related to techno and jazz on many levels. It's provided a rich conceptual seam for us. The ЭС series focuses on the 7-inch format, albeit digitally, and is a space to explore these ideas and render them as music. Typically, we will take two ideas and work through these in the balance and contrast of the A and B sides. So, for instance on ЭС-5: (It's) Time, we looked at two notions of time. One-Way Direction states that, on a macro level, time moves in a linear fashion, only forward towards inevitable entropy. T-Symmetry, however, shows that on a micro level, time is entirely symmetrical. The possibilities of imagination when seeing these ideas as music are vast, they show us new angles to enter the form.
Tom Wheatley on the bass
Although in ТЕПЛОТА you leave aside your main acoustic instrument, the double bass, in Double Bass (2018) and Round Trip (2020) we hear you comfortably playing it and exploring an aesthetic realm closer to European free improvisation. Can you point out any references in the freely improvised music scene that inspire you musically?
I don't think my work in ТЕПЛОТА is leaving aside the acoustic instrument, it's still there at the core of it. Whilst I might be bowing a virtual string, I'm doing that through the double bass. It's prosthesis. And though the tech appendages are different, Machine Bass with its feedback mechanism, and Round Trip with its digital palimpsest, come from the same impulse. Aesthetically, Double Bass does fall closer to a more traditional mould of free improvisation, though it's equally a composition. I'm glad it's there as a document but I can't imagine making a record like that now. 
Evan Parker solo in America in 1978, on the two records At The Finger Palace and Vaincu.Va!, AMM as a collective piece of work, Ross Lambert's Magnit-iz-dat, Derek Bailey's Guitar, Drums 'n' Bass - they all get described as European free improvisation (though none of them sit comfortably in that category) and they each had a profound effect on me, changed how I thought, for the better.
Drawing from the handwriting series
Besides your work as a musician, you also have been developing substantial work as a visual artist. For readers less familiar with this, would you like to explain, in general terms, what it consists of?
Whatever ideas I'm working through in music, I'm simultaneously exploring them in my visual work. I learn through both of them and they help define each other. Concurrently with Round Trip, I was making the 'handwriting' drawings, working through ideas of kinaesthetic memory and layering as perspective, and those concepts run through Round Trip. Currently I'm working with a new print making technique I've been developing over the past 6 months. A kind of semi-digital monoprint, it learns from the psychoacoustic phenomena I've been studying, but also in it's relationship to technology it's very similar to what I do in ТЕПЛОТА. They are both cryptically cyborgian. In ТЕПЛОТА it's increasingly unclear what is a double bass, a treated sample of it, or an entirely synthetic sound. With these prints it's clear that they're not made entirely with my hands (they couldn't be) but where that distinction lies is not.
Work from the print series
Now that the confinement is finally slowing down and we are starting to see the light at the end of the tunnel, what are your plans and goals for 2021?
I'm playing a new solo work on 22nd May at the UK Mexican Arts Society. It's a reimagining of Charles Mingus's Tijuana Moods. Then ТЕПЛОТА is playing Cafe OTO on 27th June. We did have a tour lined up for this summer but that won't be possible yet. CAST-ON, a project with knitwear designer and artist Ilana Blumberg, has a new video piece coming out in the next few weeks. There is a film of some recent solo work to release as well. So the next few months will be busy. Later in the year I'll be working with Daniel Blumberg again on his score for a new film, and until December, ТЕПЛОТА will continue the monthly ЭС series.